Why this program?
Art therapy is an integrative mental health and human services profession that enriches the lives of individuals, families, and communities through active art-making, creative process, applied psychological theory, and human experience within a psychotherapeutic relationship. (AATA 2021). Expressive arts therapy involves the intermodal use of visual art, music, movement, poetry, and performance, in therapy and healing. Students have the option of preparing to pursue registration as an Art Therapist (ATR) through the Art Therapy Credentials Board or registration as an Expressive Arts Therapist (REAT) through the International Expressive Arts Therapy Association. The Prescott College model provides a flexible design that meets the course requirements for eventual art therapy and expressive arts therapy registration. Coursework includes a supervised practicum and internship, attendance at an Expressive Arts Therapy Summer Institute Residency, and a capstone project.
The Graduate Certificate in Expressive Arts Therapy builds critical knowledge, skills and affective behaviors required for professional expressive arts or art therapy practice. Students completing the Certificate will possess knowledge of history, theory, practice, media intervention techniques, and research applications grounded in ethical, socially responsible and culturally sensitive perspectives.
---
What can you do with this certificate program?
This is one of the very few academic programs with the program objective to incorporate the experience of experiential learning and adventure in modalities designed to heal clients and facilitate their personal exploration. Graduates will possess competencies in both conventional counseling and adventure therapy, including in residential and community-based settings. You will develop critical thinking skills and theoretical knowledge necessary to facilitate counseling that integrates clinical adventure-based interventions, including ethical considerations, cultural relevance, risk mitigation, clinical applications, and current research.
---
What will this program look like?
The Adventure-based Counseling Certificate program is designed to enhance your learning and future practice. This program may be taken concurrently by students who have been accepted into the Master of Science in Counseling, or by those individuals who have already attained a master's degree in a field of mental health practice.

The program follows the Standards and Guidelines for the Accreditation of Educational Programs in Art Therapy Adopted by the American Art Therapy Association, the Accreditation Council for Art Therapy Education and the Commission on Accreditation of Allied Health Education Programs. Graduates meet the Art Therapy Credentials Board (www.atcb.org) requirements to pursue art therapy registration. In addition, graduates can also qualify to pursue registration as an expressive arts therapist through the International Expressive Arts Therapy Association (www.ieata.org). Students can seek art therapy licensure in some states and must verify that their degree program covers the necessary requirements of the licensing board in their state.
Key Program Information
Number of Credits
30
Cost Per Credit
$830
Start Dates
August 22, 2023
Admissions & Apply
Understand the historical development of art therapy and expressive arts therapy and art therapy and expressive arts therapy theories and techniques as a foundation for contemporary professional practice.
Be aware of the therapeutic benefits of art processes and media, strategies and interventions, and their applicability to the treatment process for individuals, groups, and families.
Understand the basic diagnostic process and the major categories and criteria of mental disorders, corresponding treatments, and commonly prescribed psychopharmacological medications.
Recognize the impact of oppression, prejudice, discrimination, and privilege on access to mental health care, and develop responsive practices that include collaboration, empowerment, advocacy, and social justice action.
Develop culturally appropriate, collaborative, and productive therapeutic relationships with clients and an awareness of the need to cultivate respect for cultural differences and similarities and the ability to apply this cultural sensitivity in the therapeutic relationship.
Select culturally and developmentally appropriate assessment and evaluation methods and administer and interpret results to identify challenges, strengths, resilience, and resources for Art Therapy treatment planning.
Know federal and state laws and professional ethics as they apply to the practice of Art therapy.
Recognize and respond appropriately to ethical and legal dilemmas using ethical decision- making models, supervision, and professional and legal consultation when necessary.
Recognize clients' use of imagery, creativity, symbolism, and metaphor as a valuable means for communicating challenges and strengths and support clients' use of art-making for promoting growth and well-being.
Recognize the legal, ethical, and cultural considerations necessary when conducting art therapy research.
Continuously deepen self-understanding through personal growth experiences, reflective practice, and personal art-making to strengthen a personal connection to the creative process, assist in self- awareness, promote well-being, and guide professional practice.
Apply principles of human development, artistic and creative development, human sexuality, gender identity development, family life cycle, and psychopathology, to the assessment and treatment of clients.
Understand professional role and responsibility to engage in advocacy endeavors as they relate to involvement in professional organizations and advancement of the profession.
Pursue professional development through supervision, accessing current art therapy literature, research, best practices, and continuing educational activities to inform clinical practice.
For further details about the Master of Science in Counseling Program, please read through the current Student Handbook
The Master of Science in Counseling is accredited by the Council for Accreditation of Counselor and Related Educational Programs (CACREP).
Higher Learning Commission of the North Central Association. The Higher Learning Commission has approved Prescott College to offer all of its degree titles via distance education.
Click to view program requirements and academic program information in the Course Catalog.
Click to view state licensure information regarding the Expressive Arts Therapy program.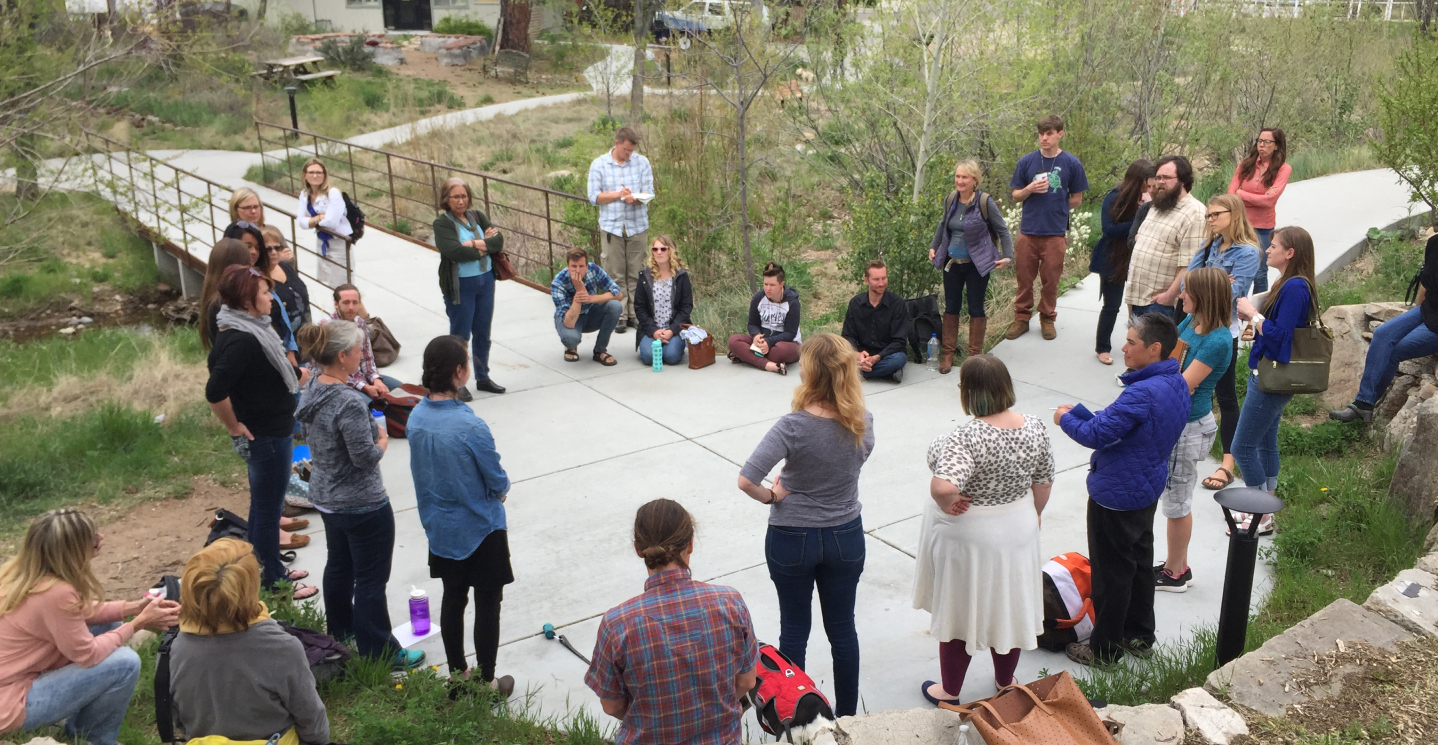 Are you interested in being part of our community?
One thing we all have in common is our passion – passion for helping others, passion for the environment, passion for social justice and a passion for a different kind of learning experience.