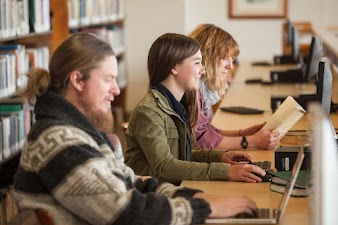 Accepted Students
We are excited to have you join the Prescott College community! Find resources and information to help you plan the next step of your educational journey.
Next Steps
Confirm that you're enrolling at Prescott! Some programs require a tuition deposit to confirm your spot. You can do this within your applicant portal, or contact your admissions counselor.

FAFSA and Financial Aid. Ensure you have submitted the FAFSA. Prescott College's school code is 013659.

Our Financial Aid Office will then send you your Offer Letter. Schedule time with your admissions counselor or our Financial Aid Office if you have questions about your aid package.

Set up your Prescott College accounts and register for class. Once your deposit is received, our IT department will set up your MyAcademicServices account and Prescott College email address. If you have any issues or delays, please contact

[email protected]

.

You can register for class in MyAcademicServices. Please work with your advisor to ensure you're registering for the right classes.

Contact Student Accounts if you would like to discuss setting up a payment plan or have questions about your bill at

[email protected]

, 928-350-4000, or schedule with them here.

Prepare for orientation. On-campus and Online students both have orientations, but they are very different!  Click to view the Spring 2024 Graduate Orientation Agenda of Events. . Contact your advisor to ensure you have all the details. 

Additional items for on-campus undergraduate students. When you submit your tuition deposit, you'll start working with your advisor (called a Success Coach). That person will help you with remaining next steps, which can be found in your applicant portal and include:

– Vaccination records
– Required Enrollment Paperwork
– Applying for Housing
– Registering for or waiving out of required student health insurance
Quick Links
Add/Drops Registration
Register for spring, search for available courses, view your student account, set up a payment plan and make payments.
Connect With Prescott College
Share Your Story #IGoToPrescottCollege